Tandem Event
Date:
Thu, 2022-03-17

18:00

-

21:00
Do you want to practise your language skills but don't have anyone to practise with? Or maybe you're interested in learning a new language but don't know where to start? Then this event is perfect for you!
Come to the ESN Tandem-Event, where you have the possibility to communicate with native speakers (or someone who speaks the language fluently) in a cosy setting. Don't worry if the level of the language you want to practise is low- we will adjust the conversation level accordingly. The place of the event will be "Das Liebig" which is a fancy bar with a lot of homemade deliciousness. Moreover, they have a climate-friendly and zero-waste concept which makes them even more likeable.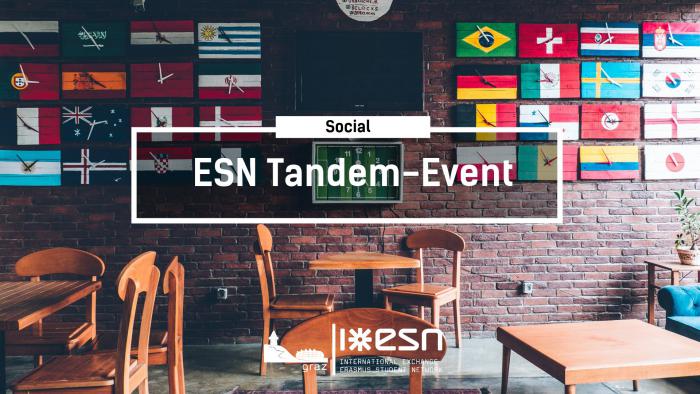 How does a 'Tandem' work: You hold a conversation with your tandem partner in the first language for a designated time, afterwards you switch to the second language. The great thing about a tandem is that you not only learn a foreign language but also about your tandem partner's culture. Who knows, maybe this event will be the first of many meetings with your tandem partner. As the saying goes: Practice makes perfect!
Whether you have a basic knowledge of your language of choice or not shouldn't be a hindrance (You can state your language level in the registration form!). More importantly, be interested in and have fun with languages and getting to know people from other cultures- you can still acquire the language skills during this event. Limited seats available, therefore sign-up required! First-come, first-serve. Sign-up open till 16th March 2021.
When: 17.03.2022 (Thu), 6-9 p.m.
Where: Das Liebig, Liebigasse 2
Special Offer: first drink is free - you can choose between one of three non-alcoholic options.
Costs: Event is free (0€).
Sign up: here
PLEASE NOTE: You have to show a valid PCR test to participate. If you have any questions, please contact us. We are looking forward to a great evening with you!
When you take part in one of our events, you do so at your own risk and your own responsibility! We do not take any responsibility! Make sure that you have an appropriate insurance!