ESNcard
The ESNcard accompanies you throughout your time as an exchange student and and provides you with various advantages and discounts! Even as an ESN Buddy you can get the ESNcard!
In addition to the benefits of many partners, we almost always offer discounts on our organised events for participants with a valid ESNcard and it also allows to get an Austrian SIM-card for free. Furthermore, it's also your ticket to the international ESN community and is therefore accepted by ESN sections and partners in many countries. The ESNcard is valid for one year and only valid with a photo on it.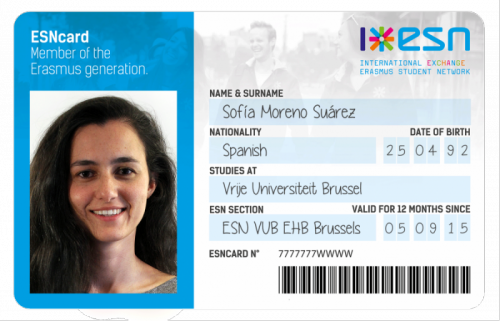 How to get your personal ESNcard:
ATTENTION - we do not offer an online application!
We are currently not offering the option of an ESNcard online application. The reason is simply the enormous effort, which we can't manage with our current resources in a timely manner. Although we work voluntarily and without payment for exchange students, our ambition is to provide the best and most professional service possible. Further, the ESNcard in our big network unfortunately still doesn't exist with a unique and personal code in a digital form (but we'll see what the future brings... maybe someone will develop an app or something like that). We hope we still do continue helping to your complete satisfaction!
You will get your ESNcard in our offices during office hours if you bring all the necessary documents with you. You can find out what you need to do this in the FAQ below!
In order to speed up the process in our offices, please let us know if you have already accepted a consent form for data transfer to your university or if you have already pre-registered or if you are an ESN buddy (this way some of your data is successfully in our database - see FAQ).
FAQ:
Who can buy an ESNcard?
The ESNcard can be purchased by incoming international exchange students in Graz with short-term stay (up to max. 2 semesters) and local buddies. The ESNcard can NOT be purchased before or after your stay abroad or for your past or future activity as a buddy, but only during the time you have the respective status. There is also no entitlement if it's a stay abroad somewhere else than Graz (outgoing).
NOTE: We are aware that the ESNcard offers a lot of great benefits and discounts that you might want to take advantage of even though you don't meet (yet or no longer meet) the requirements. However, if you don't currently meet all the necessary requirements, please understand that we can't issue an ESNcard in this case. As soon as these are fulfilled and we have checked them sufficiently, we will of course be happy to issue your ESNcard.
How much does the ESNcard cost?
For 5 Euro, the ESNcard is yours! Only cash payment is currently offered in our offices.
I already have an ESNcard – can I also use it in Graz?
If your ESNcard is still vaild (generally not older than one year), you can also use it in Graz for various benefits and discounts. If you pass by one of our office hours, for instance to sign up for an event, we might ask you again for your contact information to register your card in Graz first.
What do I need for the application of the ESNcard?

disclosure of your personal data (if we haven't yet received your data through university or pre-registration): First name, last name, date of birth, nationality, university in Graz

a photo on which your face is clearly recognisable (it doesn't have to be a strict passport photo but it would fit as well)
If you drop by our office hours, please bring a photo with the measures of approx. 2x3 cm (WxH).

a proof of identity (e.g. passport)

your contact details (email address and if you are also interested in our events, ideally also your phone number)

a confirmation of eligibility (e.g. Learning Agreement or Letter of Acceptance, which prove that it's currently a short-term stay - not from any scholarship, but from university!)

Note: Record of studies, confirmation of academic semesters, or confirmation of registration do not count as proof of a short-term stay, as any student can provide proof of these confirmations. If you are joining our ESN Buddy Programme and taking care of exchange students, you don't have to show us any confirmation of eligibility. Just let us know that you are currently an active buddy and you want the ESNcard and we will check and do the rest!


the code that was automatically sent to you via email (in case of pre-registration)
Why should you already have my data? How can I pre-register?

If you agreed to share your data with us when registering at your university in Graz, we can prepare the ESNcard for you faster and easier and you don't need to show us any proof of eligibility - since we would already know that you are eligible to get an ESNcard!

If you didn't agree to the data transfer of your university or if you were not asked for it during the registration at your university in Graz, you can apply for the ESNcard by pre-registration. This way, issuing your ESNcard will be much faster but you will still have to show your confirmation of eligibility.

NOTE: No need to do that if you already accepted the declaration of consent at your university, in which case we were already able to pre-register you.

Application by pre-registration (doesn't replace a confirmation of eligibility!):

> If you already have an account on our website, please first login.
> Then follow this link and fill in/check your already filled in data.
> In the course of the registration, you will get an email containing all information needed to get your card - please click the confirmation link in that email.
> Upon completing the pre-registration you will receive a code by e-mail - we will need this code after checking whether you are eligible to purchase an ESNcard in order to be able to issue one.


The application for an ESNcard is not necessarily related to an account creation on this website. (An account is only necessary for some of our services and the ESNcard is not one of them). When processing your data for the issuance of an ESNcard, we usually do not use the data that you provided when creating an account! In the case of a pre-registration, we currently have only very limited possibility to access your data before the actual ESNcard issuance - so if you are not eligible or send only incomplete necessary documents, the application may be rejected without being informed. For the pre-registration you do not need an account on this website, but it makes sense to log in beforehand if you have one.

If you are joining our ESN Buddy Programme in the role of a buddy (local student), we already have your data.

Please do not send any e-mails with documents! Since this doesn't comply with the General Data Protection Regulation (GDPR), we won't ask you to do so. We won't process applications via email or otherwise as described here and will at most kindly refer you to this page here.
Why do I have to give my contact information during the registration for the ESNcard?
If you sign up for an event, which is organised by ESN Graz, we need your email address and phone number to contact you in case we have to cancel the event or tell you further information about it. By giving us your contact information during your ESNcard registration, we can do your event signup in an easier and quicker way.
Another reason is that we simply could not inform you without contact details if necessary documents are missing from your ESNcard application.
From time to time it happens that ESNcard holders lose their card or their entire wallet or leave other belongings behind. If this happens in one of our offices or at one of our events, or if something is left with us that can be traced back to you, we can also inform you in this case.
Of course your contact information won't be passed on to third parties.
I lost my ESNcard/my ESNcard was stolen – what should I do?
If your ESNcard was stolen, please bring a theft certificate (when you report a theft at the police, you get a confirmation with you) - in this case you get a new ESNcard for free. If, on the other hand, you have lost your ESNcard, you unfortunately have to buy a new one.