Newsletter
ESN Graz offers the possibility for exchange students to receive a newsletter, usually once a week during the semester including upcoming events and useful information.
How do I sign up for the newsletter?
Graz University of Technology:
Usually all exchange students from TU Graz are added to the newsletter list, if they personally agreed on that explicitly. In case you are an exchange student but haven't received the newsletter please contact us or come visit us during our office hours.

University of Graz and other universities (except TU Graz):
For the ESN newsletter please register here at the appropriate mailing list:
winter term register, summer term register, buddies register
( After the mailing system changed recently, we are still in the process of setting up the links again - please be patient! )

Applying for the newsletter by getting the ESNcard you need to approve a confirmation email first to actually start receiving the newsletter.

By registering for the newsletter you accept that ESN Graz (Erasmus Student Network TU Graz as part of the students' union HTU Graz and Erasmus Student Network Uni Graz) process your data in order to send you emails for the purpose of the newsletter. You can unsubscribe from the newsletter anytime.
I do not receive the newsletter. What should I do?
Please check your Spam folder first. If your email provider offers a white-list (always accept emails filter) you can add the following addresses to it: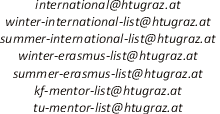 I don't want to receive the newsletter anymore. What should I do?
With each receiving newsletter you also have the option to unsubscribe. Follow the description mentioned at the bottom of the newsletter email.
IMPORTANT: To successfully unsubscribe you receive one last email to which you have to reply to finalise unsubscribing. In case of difficulties please contact us.