ESNcard
The ESNcard is available in our offices. It accompanies you throughout your time as exchange student and provides you with various advantages and discounts. There is nearly always a discount for our organised events for participants with ESNcard and it also allows to get a SIM-card for free. Besides, it is also your ticket to the international ESN community and thus valid in many countries too.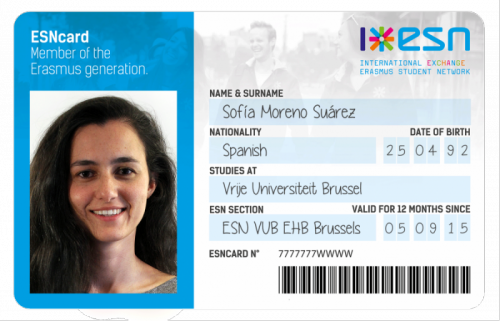 You can purchase the ESNcard during our office hours for 5 Euro. Please also bring a small picture of you and an ID.
To get your ESNcard faster in our offices you can pre-register:
NOTE: You don't need to do so, if you already accepted the declaration of consent at your university, so that we could already pre-register you.
If you have already an account on our website, please first login.
Then follow this link and fill in/check your already filled in data.
Upon completion of the registration, you will get an email containing all information needed to get your card - please click the confirmation link in that email.
Important:
This does not replace a confirmation of eligibility (e.g. learning agreement)!
The ESNcard is valid for one year and it's only valid with a picture!
FAQ:
Who can buy an ESNcard?
The ESNcard can be bought by international exchange students and local buddies.
I already have an ESNcard – can I also use it in Graz?
If your ESNcard is still vaild (generally not older than one year), you can also use it in Graz for various benefits and discounts. If you pass by one of our office hours, for instance to sign up for an event, we might ask you again for your contact information to register your card in Graz first.
Why do I have to give my contact information during the registration for the ESNcard?
If you sign up for an event, which is organised by ESN Graz, we need your email address and phone number to contact you in case we have to cancel the event or tell you further information about it. By giving us your contact information during your ESNcard registration, we can do your event registration in an easier and quicker way. Of course your contact information won't be passed on to third parties.
I lost my ESNcard/my ESNcard was stolen – what should I do?
If you have lost your ESNcard, you unfortunately have to buy a new one. If, on the other hand, your ESNcard was stolen, please bring a theft certificate (when you report a theft at the police, you get a confirmation with you) - in this case you get a new ESNcard for free.