A.L.P.S. - National Skiing Trip
Date:
Fri, 2022-11-25 09:45
-
Sun, 2022-11-27 20:30
Ever heard of Austrias national sport?
Damn right, it's skiing and it would be a pity to do an exchange in our beautiful country without at least having tried to balance yourself on two wooden sticks (or one if you're on the dark side with the cookies a.k.a. a snowboarder).
This is why ESN Austria created the ESN A.L.P.S. - Action - Leisure - Party - Ski for you! However, for us Austrians spending a day on the snowy slopes is only part of the skiing experience. When the ski lifts close around 4pm, Austrians often passionately engage in something called Aprés Ski – something you surely wouldn't want to miss out on!
From 25.11. – 27.11.2022 exchange students from all over Austria will gather in Mölltal, a true glacier with skiing slopes, to spend an incredible weekend full of skiing, party and fun! Let us show you how we ski.
Don't miss out on that amazing opportunity & join ESN A.L.P.S. - the peak of your exchange semester!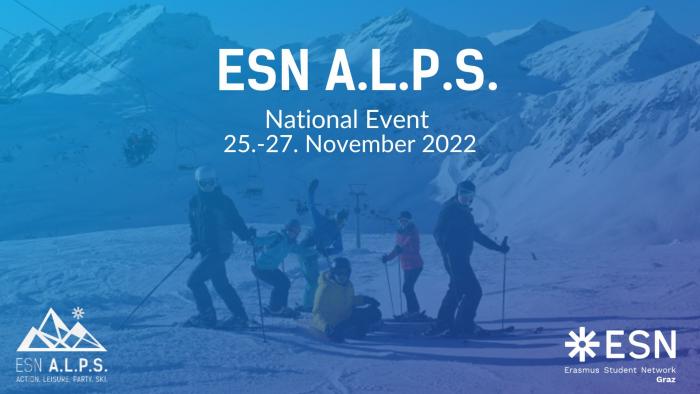 **HARD FACTS**
- WHEN? -
Friday, November 25th (9:30 am) until Sunday, November 27th 2022 (late evening)
- WHERE? -
Action- and Sporthotel Mölltal, 9831 Flattach
- WHAT do we have planned for you? -
Friday:
Transport from Graz to the hotel
Check-in & getting your ski equipment
Dinner and evening program
Night games
Saturday:
Breakfast
Finally time to ski/snowboard the whole day
Dinner
Afterwards: Aprés-Ski Party
Sunday:
Check-Out at 10 am and breakfast
Skiing/snowboarding again until approx. midday
Transport back to Graz
**COSTS**
-BASIC PRICES-
with ESNcard: 220€
without ESNcard: 240€
This price includes 20€ of deposit, which you will get back at the end of the event, if everything went well in the hotel and in the bus.
-INCLUDED IN THE BASIC PACKAGE-
Transportation via bus to Flattach/Mölltal and back to Graz
Accommodation for 2 nights
Breakfast and dinner
Ski pass for 2 days (Saturday & Sunday)
Evening program Friday (gaming evening) and Saturday (party)
Original A.L.P.S. bag as a remembrance
-NOT INCLUDED / OPTIONAL PACKAGES & PRICES-
ski/snowboard rental (helmet included in both):
- 37€ for ski equipment
- 52€ for snowboard equipment
ski/snowboard clothes
- 20 € gloves & goggles
- 12€ only gloves
- 12€ only goggles
- 35€ ski pants
- 50€ ski jacket & pants
- 65 € FULL ski set (ski jacket & pants & gloves & goggles)
ski/snowboard lessons (available for beginner, intermediate & advanced levels)
- 15€ one day
- 25€ both days
Lunch
Drinks in bars/clubs
**REGISTRATION**
For the registration, please follow THIS link!
The registration will be opened on Thursday 20.10.2022 at 20:00 (8 p.m).
Once you have done the initial registration additional information is needed which will be asked via an email. Make sure to fill out all the information!
After that, you will be informed if you got a spot, receive further information on the trip, as well als details regarding when and where to pay for the trip! (Important: We accept only cash payments. Please bring the needed amount (price basic + optional packages) to the ALPS office hour.)
**MEETING POINT**
Friday, 25th of November 2022 - 9.30 am
at Franz-Graf Allee (next to the Opera Graz)
What about Corona?
Currently, there are no mandatory corona measures for travelling, skiing, or eating in restaurants. In case of measures modification, we will announce the changes via mail. Registered participants who won't accept those changes and simultaneously won't undertake steps to fulfill all measures will NOT be accepted to the participation at our A.L.P.S. event.
PLEASE NOTE: When you take part in one of our events, you do so at your own risk and your own responsibility! We do not take any responsibility! Make sure that you have an appropriate insurance!