Ski Day
Date:
Thu, 2022-12-08

06:00

-

19:00
Dearest "Skihaserl" and friends of Austria's fantastic snowy mountains - join us on a day full of skiing and fun!

Sounds good? Then you should definitely be a part of our ESN Graz Ski Trip for an amazing day at the ski resort Kreischberg, located not too far away from Graz. The slopes at Kreischberg, a total of 42 kilometres for all levels of difficulty, are a perfect chance to enjoy Austria's beautiful mountains!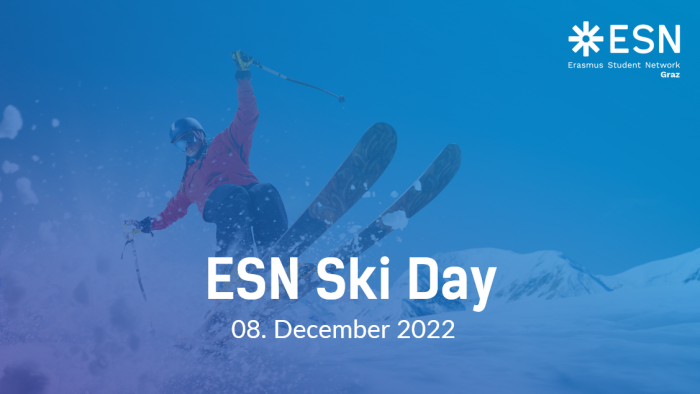 WHEN: Thursday, 08th of December 2022
MEETING POINT: 6.00 a.m. at Franz-Graf Allee (next to the Opera Graz)
ARRIVAL BACK IN GRAZ: ~7.00 p.m.
COSTS:
30€ - Buddys with ESNcard
35€ - Students with ESNcard
45€ - Students without ESNcard
+ 15€ ski / snowboard + helmet rental (optional)
+ 10€ ski / snowboard lessons, 4h (optional)

What's included in the basic price:
Transportation from Graz and back
1 day ski pass
Optional extras:
Ski / snowboard instruction for 4 hours:
As the slopes on the mountains can be very different from the slopes you have tried before, we highly recommend getting an instructor. We at ESN pay a lot extra for this service for you and the cost of a private instructor would be many times higher. So, if you haven't skied on a real mountain yet, please consider this special offer for you. We're looking very carefully for English speaking instructors.
included: ski with poles / snowboard, shoes, helmet
not included: goggles, gloves, ski clothes - make sure to organise some before the trip! And do NOT wear jeans when skiing!
SIGN UP
Please understand that we are not giving spots to A.L.P.S. participants for this event as we also want to give all other students the opportunity to join us on a ski trip. People who were on the waiting list of A.L.P.S. will be prioritised.
The sign up will be during our office hours from Tue, 29th of November until Tue, 6th of December (cancellation deadline: Fri, 2nd of December)
Make sure that you know your shoe size (European size), your height (in cm) and your weight (in kg), if you want to rent equipment!
Also there are following rules for the sign up in our office hours:
You can pay only in cash. Bring the full amount! (depending on your optional choices)
You can sign up only personally during the office hours. Not for a friend, nor can a friend sign up for you.
You cannot sell your seat for the skiing event to another person. If you can't participate, the place will be given to the next person on the waiting list.
If you are on the waiting list and a spot clears you will be notified via email.
Thank you for your cooperation!

TIME TABLE
Meeting point: 6.00 a.m.
Arrival at ski resort: around 8.30 a.m.
Ski/snowboard lessons: 10.00 a.m. - 12.00 p.m. and 1.00 p.m. - 3.00 p.m.
Ski slope closing: 4.00 p.m.
Meeting point for departure: 5.00 p.m.
Arrival back in Graz: approximately 7.00 p.m.
WHAT TO BRING WITH YOU
Appropriate warm skiing wear (jeans, chinos and so on are not appropriate as they will get wet and you'll freeze)
Food/snacks and water
Money for drinks and warm food in the mountain huts
Your ID card
The confirmation of payment from ESN
PLEASE NOTE
When you take part in one of our events, you do so at your own risk and your own responsibility! We do not take any responsibility! Make sure that you have an appropriate insurance!
If the snow forecast is bad (not enough snow) or there are no appropriate skiing conditions, the event will be cancelled or postponed!

If you're already interested and can't wait to know more about the skiing resort Kreischberg, check out their slope map and their website: https://www.kreischberg.at/der-berg/pistenplan/?lang=en