Hiking Trip - Rettenbachklamm
Date:
Sun, 2023-03-12

10:00

-

20:00
Ready for our first Hiking Trip of the semester? Yes? Then grab your hiking boots and get started. We will take you to Rettenbachklamm which is located around 20 minutes outside of Graz and is easily accessible via Bim (tram). From there we will hike through the Rettenbachklamm to Stephanienwarte, where we will enjoy a nice view over Graz. Finally, we will stop by and have a look inside the beautiful basilica of Mariatrost.
Afterwards, we will take the tram back to Graz together and grab a drink / get some food in a local restaurant with all those who want to join. The hiking will take us approximately 3 hours.
What to bring: sturdy shoes and comfortable clothes, drinks and some food for the lunch break.
Sign up online or stop by during our Office Hours!
P.S. Please note that the event can be cancelled due to bad weather and postponed to another Sunday. We will inform you via email. So make sure to check your emails regularly.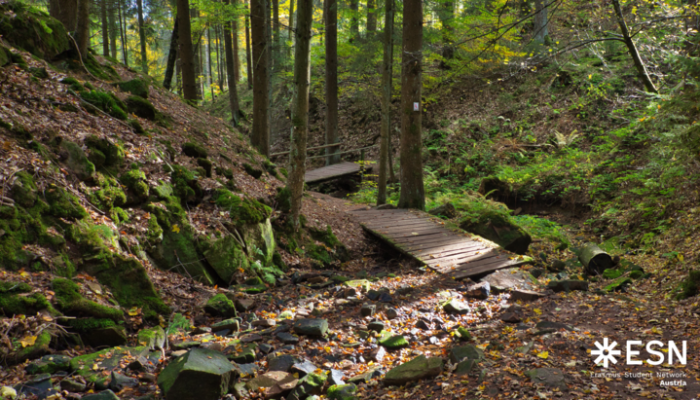 Date: Sunday, 12. March 2023
Time: 10 am
Meeting point: Crossing Mariatrosterstraße / Steingrabenweg (~ 3 minutes walking from Tram Stop Waldhof/Rettenbachklamm)
Price: This trip is basically free. You only need to pay 5.40€ on the tram for the way and way back with Bim in case you do not have a tram ticket (each one pays individually)
Deadline Sign Up until: 08.03.2023
Sign-up link: here
PLEASE NOTE: When you take part in one of our events, you do so at your own risk and your own responsibility! We do not take any responsibility! Make sure that you have appropriate insurance!