AUTdoors - Summer Mountain Event
Date:
Fri, 2023-06-02 13:00
-
Sun, 2023-06-04 17:00
Adventure awaits you AUTdoors...
It is time to reach the peak of your exchange semester - in the most beautiful Austrian national park, the Gesäuse.
---
What is AUTdoors?
Together with some exchange students and ESN members from the Technical University of Vienna, we will head to the Gesäuse national park and experience some real-life "Sound of Music" vibes. The seventy of us will experience a weekend filled with hiking, stunning views, campfires, night walks, traditional mattress dormitories, delicious food, and lots of fun.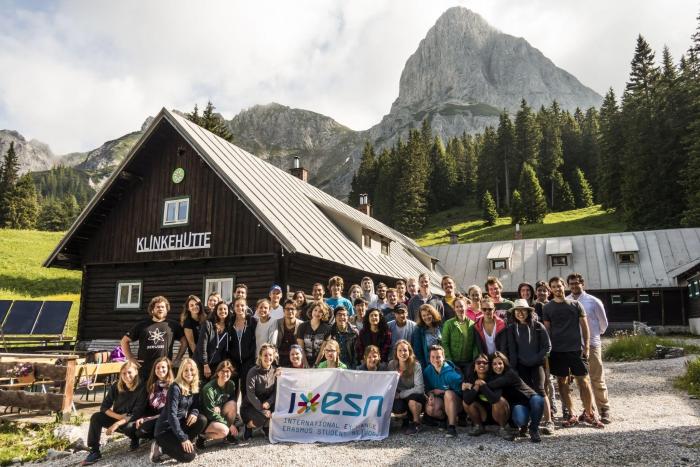 Where is it happening?
At the "Klinke Hütte" in the Ennstaler Alps. Check out the accomodation here.
Schedule
Friday:
- Arrival at the Klinke Hütte
- Treasure Hunt to explore the area
- Campfire Session & Night Walk
Saturday:
- Hiking, Hiking, Hiking.
There will be different groups based on you previous hiking experience, so all levels welcome!
- Chill Games Night & Social Programme
Sunday:
- A bit more hiking
- Hiking & swimming at one of our favourite Austrian lakes: the Leopoldsteinersee
- If the weather allows it, we may be able to make a detour to the Wasserlochklamm and go swimming over there instead (check it our here)
- In case of rain, we will head to Stift Admont instead. It is home of the world's largest monastery library and several museums.
- Arriving back in Graz around 5.00 pm

When?
Friday, 2nd of June (1.00 pm) to 4th of June (5.00 pm)
We will meet up and be dropped off at the Franz Graf-Allee (next to the opera house Graz), make sure to be on time!
Price?
135€ with ESNcard
155€ without ESNcard
+ 25€ deposit (including the rental of a proper hut sleeping bag, which you can buy and keep after the event if you wish to).
What is included?
Transportation from and to Graz
Two Nights at the Klinke Hütte
Breakfast and Dinner provided by the staff at Klinke Hütte
Lunch Bags for the Hike
Sleeping Bag rental
Social Programme (Treasure Hunt, Games Night, Bonfire session with traditional Austrian snacks)
Guides for the hike
What to bring?
Proper sturdy Shoes / Hiking Boots - if you show up with crocs or other shoes unsuitable for hiking, you will have to join the beginners group or, worst case, cannot participate at all. Check out what it means to have a "proper shoe" here.
Swimming clothes
Appropriate Clothing (warm clothes)
Towel & Toiletries
Money (Cash) for drinks at the cottage
Rain Jacket
Extra Snacks
Water Bottle
Backpack (you can share one with others)
FAQ
YES - there is electricity in the cottage.
YES - there are toilets and showers.
YES - you need to be properly insured for this trip.
NO - you do not need to carry your luggage all the time, nor to the hut.
NO - there will not be the best wifi connection you have ever had.
NO - we will not sleep outside or in a cave ;)
NO - we sadly will not be able to party as much/long as at ALPS, as other people are staying at the cottage as well and we have to be (rather) quiet from 10 pm onwards.
---
How do I sign up?
Register here on Friday at 08.00 pm sharp. Do not forget to click the link on the confirmation E-mail to secure a spot (it may take up to 15 minutes until you receive the mail)!
We would then ask you to visit us at our extra office hours on Monday, 22nd of May (6.45 pm to 9.30 pm) to pay (cash only!) at HS 03.01. (ground floor Uni Graz, Universitätsplatz 1) for a fixed participation.
If you have classes on that day or are out of town, feel free to send a friend or let us know and we will find another date for you :)
More information on the trip will follow after the sign up.
---
PLEASE NOTE: When you take part in one of our events, you do so at your own risk and your own responsibility! We do not take any responsibility! Make sure that you have an appropriate insurance!