Online Game Night
Date:
Sun, 2021-03-07

19:00

-

23:00


Please be a responsible person. If you feel sick in any ways please stay at home. If you suspect that you're having symptoms of COVID-19 before or after joining ESN events or services or you had contact with a COVID-19 positive tested person within close proximity in time please inform us! Then follow the further steps which are communicated by the Austrian health hotline 1450! Suspected or confirmed cases of COVID-19 and category contacts I and II at TU Graz must be reported! It's very likely this also applies to all other Graz universities, please check this on your own responsibility and out of respect for your fellow human beings!
picture source
NOTE: Our government advises to reduce all physical social interactions to a minimum. For further information, please check out this page.
How can you better finish the first week of classes in the new semester than with an exciting night of playing games?
We will choose between Among Us, Skribbl, Codenames and any other fun online game that you like! So, grab some snacks and drinks, prove your gaming skills, and spend a fun games night with us and your friends!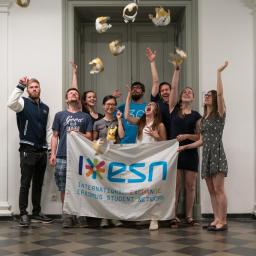 Date: 7th of March 2021
Time: 7 p.m.⠀
Place: online on our Discord Server
Costs: none
(For among us you can download the smartphone app for free or buy the computer version for only 3.99€)

Sign up: no sign up - just show up and have a great time with us