Easter Egg Coloring
Date:
Mon, 2021-03-22

18:00

-

20:00


Please be a responsible person. If you feel sick in any ways please stay at home. If you suspect that you're having symptoms of COVID-19 before or after joining ESN events or services or you had contact with a COVID-19 positive tested person within close proximity in time please inform us! Then follow the further steps which are communicated by the Austrian health hotline 1450! Suspected or confirmed cases of COVID-19 and category contacts I and II at TU Graz must be reported! It's very likely this also applies to all other Graz universities, please check this on your own responsibility and out of respect for your fellow human beings!
picture source
NOTE: Our government advises to reduce all physical social interactions to a minimum. For further information, please check out this page.
Every year during the Easter period, Austrians get creative and color boiled eggs. These eggs make awesome Easter presents and they are great for several traditional games. This time it is your turn to color your eggs!
We will show you how we usually color our eggs, and you can try it out at the same time.
What you need:
Eggs (bright eggshells take up the staining better),
Egg coloring (you can get it at drugstores like DM and BIPA or at pharmacies) or try natural coloring with turmeric or red onion skin,
Vessels for staining (e.g. old jars),
a bit of vinegar
Optional: bee wax and candles; flowers and tights; stickers
Most important ingredient for success: motivation and creativity! 😊
Additional: EASTER EGG COLORING COMPETITION! Get your eggs ready! Show us your most creative/beautiful creations and win one of three Austrian Easter packages! 😉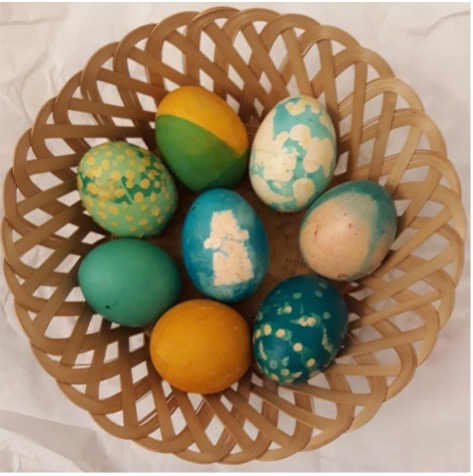 When: Monday 22.03.2021, 6 pm – 8 pm
Where: WebEx Link will be sent to you via e-mail
Registration Start: 15.03.21
Registration End: 21.03.21, 12 pm
Sign up here