Schöckl
Date:
Sun, 2021-10-24

08:00

-

18:00


Please be a responsible person. If you feel sick in any ways please stay at home. If you suspect that you're having symptoms of COVID-19 before or after joining ESN events or services or you had contact with a COVID-19 positive tested person within close proximity in time please inform us! Then follow the further steps which are communicated by the Austrian health hotline 1450! Suspected or confirmed cases of COVID-19 and category contacts I and II at TU Graz must be reported! It's very likely this also applies to all other Graz universities, please check this on your own responsibility and out of respect for your fellow human beings!
picture source
NOTE: Our government advises to reduce all physical social interactions to a minimum. For further information, please check out this page.
Schlossberg is great and all, but not really a hike, right? Austria is full of beautiful mountains waiting for you to explore them. Why not start with the closest one, conveniently located north of Graz - Schöckl! Almost as close as Schlossberg, but a real hike!
Join us on Sunday, October 24th, as we embark on a one-day hiking trip to Schöckl and enjoy the nature and beautiful view over Graz. The journey starts in the city where we meet up and take the tram and bus to the hike's starting point. It won't be the toughest hike but certainly not a walk in the park. Therefore don't forget to wear sturdy shoes (waterproof hiking/tracking shoes) and warm clothes (we have nearly winter and there might already be snow, also for sitting outside during the breaks). Due to the Corona situation, we will not organize a lunch or visit any hut. We recommend you bring your own lunch and enough to drink!
IMPORTANT: Participation in the event is only possible by presenting one of the 3-G rules (vaccinated, tested or recovered). Bring a FFP2-mask for public transportation. If you are feeling sick or changed your mind after signing up and don't want to go any more - no problem. Just write us a short notice that you want to cancel. Most importantly, don't forget to bring a big smile and motivation. We can't wait to meet you guys and enjoy an awesome hiking day together!
P.S. Please note that the event can be cancelled due to bad weather. We will inform you via email. So make sure to check your emails regularly. We will send out a confirmation and the exact meeting point the day before.
PP.S. We reserve the right to exclude any participant showing up at the meeting point with unsuitable equipment (especially shoes) due to the risk of injury!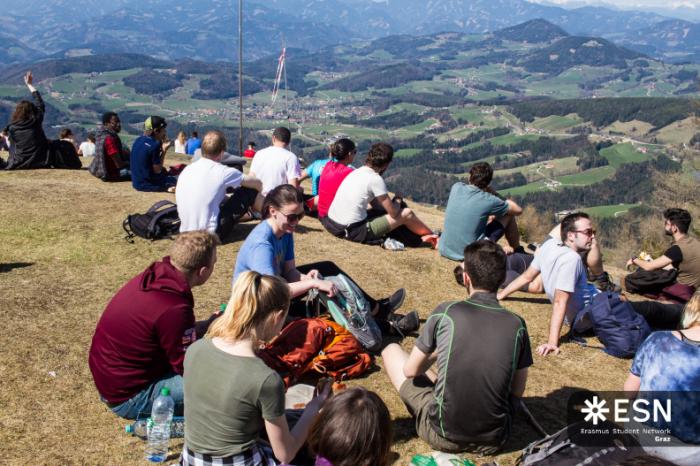 Date: Sun, 24th of October, 2021

Time: 08:00 a.m. for the comfortable group, 08:45 a.m. for the sporty group

Meeting Point: Jakominiplatz (the exact meeting point will be send to you via email, please check them regularly before the event) -

Arrival: Attention - we will NOT take the same way back, arrival at Andreas-Hofer-Platz

Approximate Return to Graz: 6 p.m.

Costs: only transportation, buy your own Ticket; for getting there the ticket price is 2,50 €, if you have a Semester-Ticket or Top-Ticket which covers Zone 101 you will not need an extra ticket. For the return trip the ticket costs 6,90 € (if you have a Top Ticket you will need no extra ticket).

Sign Up Link: here

Start Sign Up: Monday 18th of October 2021, only online within the sign up link

Deadline Sign Up: 22nd of October 2021 at midnight
PLEASE NOTE: When you take part in one of our events, you do so at your own risk! We do not take any responsibility! Make sure that you have an appropriate insurance!