ESN Regulars' Table


Please be a responsible person. If you feel sick in any ways please stay at home. If you suspect that you're having symptoms of COVID-19 before or after joining ESN events or services or you had contact with a COVID-19 positive tested person within close proximity in time please inform us! Then follow the further steps which are communicated by the Austrian health hotline 1450! Suspected or confirmed cases of COVID-19 and category contacts I and II at TU Graz must be reported! It's very likely this also applies to all other Graz universities, please check this on your own responsibility and out of respect for your fellow human beings!
picture source
NOTE: Our government advises to reduce all physical social interactions to a minimum. For further information, please check out this page.
At Regulars' Table ("Stammtisch") exchange students, buddies as well as our staff members will come together for a fun evening. 🤩🎉 So join us at the ESN Regulars' table in a cheerful atmosphere with some casual get-together drinks, get to know more people or keep up to date with your friends in the only proper way - face to face 🍻🥰
Stop by for drinks, chats and great food! Cheaper drinks and food with your ESNcard (Beer for 2,50€ and Pizza for 5,00€). 😉 🕐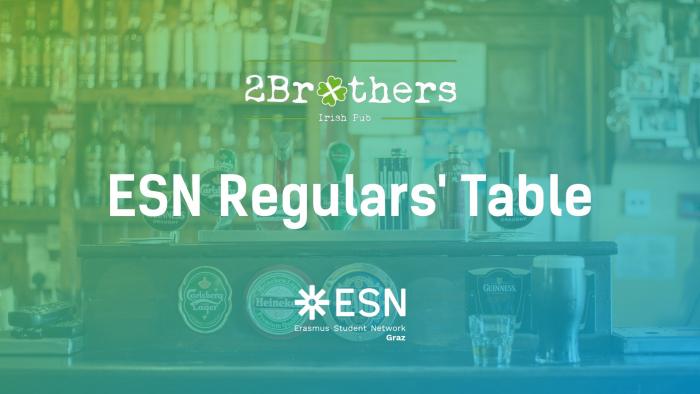 When: 8 pm 📍
Where: 2 Brothers Irish Pub (Trauttmansdorffgasse 3)
❗IMPORTANT: Participation in this event is only possible by presenting one of the 3-G rules (vaccinated, tested, recovered) and your ID. Guest registration is obligatory❗ We are looking forward seeing you there!
A small word of advice: It is a busy place when we are there and in large crowds you can't pay attention to your things all the time. So we recommend you to always carry your bags with you!
IMPORTANT: From November 3rd on the participation in the event is only possible by presenting one of the 2-G rules (vaccinated or recovered) plus your ID. In addition you have to fill out a registration before you enter the bar.