CANCELLED: Sightseeing Dachstein & Hallstatt
Date:
Sat, 2020-10-24

07:00

-

20:00


Please be a responsible person. If you feel sick in any ways please stay at home. If you suspect that you're having symptoms of COVID-19 before or after joining ESN events or services or you had contact with a COVID-19 positive tested person within close proximity in time please inform us! Then follow the further steps which are communicated by the Austrian health hotline 1450! Suspected or confirmed cases of COVID-19 and category contacts I and II at TU Graz must be reported! It's very likely this also applies to all other Graz universities, please check this on your own responsibility and out of respect for your fellow human beings!
picture source
NOTE: Our government advises to reduce all physical social interactions to a minimum. For further information, please check out this page.
This event is CANCELLED. Details and reasons for the cancellation will be announced soon.
Join us for a day trip to one of the UNESCO world heritage sites in Austria: Hallstatt-Dachstein-Salzkammergut.
Our first stop will be the almost 3000m high mountain Dachstein-Krippenstein. To get up the mountain we'll take the gondola to the middle station Schönbergalm where we'll walk approximately 15 to 20 minutes to the ice cave. The guided cave tour will whisk you away into the fantastic winterworld of the Dachstein. In there it's constantly -2°C (26,6°F) and icy the whole year around. Enjoy a tour of gigantic ice and rock formations as well as a hanging bridge and a light show.
After the tour we'll take the gondola up on the peak of Krippenstein. Our next stop will be the from where we will take an easy hike for approximately 20 to 30 minutes to the "5fingers" viewing platform. The viewing platform offers an amazing view over the Alps and is built over a 400m drop. Here's enough time to enjoy the breathtaking view and take pictures.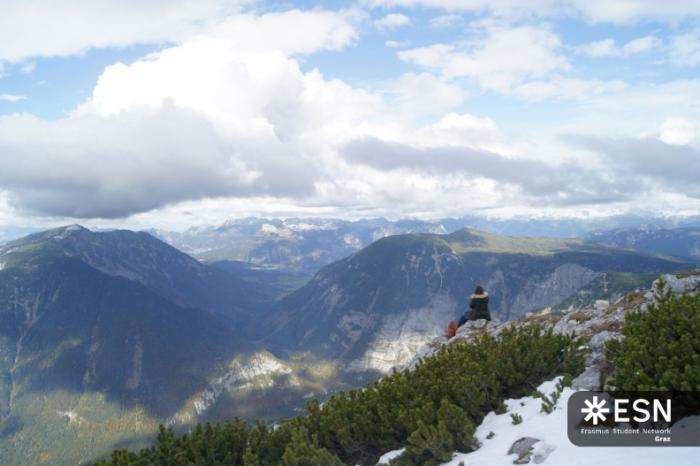 In the afternoon we'll going to visit the beautiful town of Hallstatt taking the scenic route with our bus. Random fun fact did you know that: Hallstatt itself is so picturesque that a full-scale replica of the entire town was built in China. Even parts of the popular K-drama series Endless Love were filmed there?
In Hallstatt you'll have enough time to make the most out of your afternoon. Maybe have lunch and explore the town with its cute cafes and restaurants. Shop a little or take the ropeway on your own, ride up the salt mountain go to the scenic platform "Skywalk World Heritage View", from which you will get a fantastic view of the region Salzkammergut and you will have the opportunity to take Instagram worthy photos with the Hallstättersee (Lake Hallstatt) and the Dachstein mountains as the backdrop. Or rent an electric boat (no license needed) to cruise over the Hallstättersee with your friends and observe the sun vanishing behind the mountain peaks.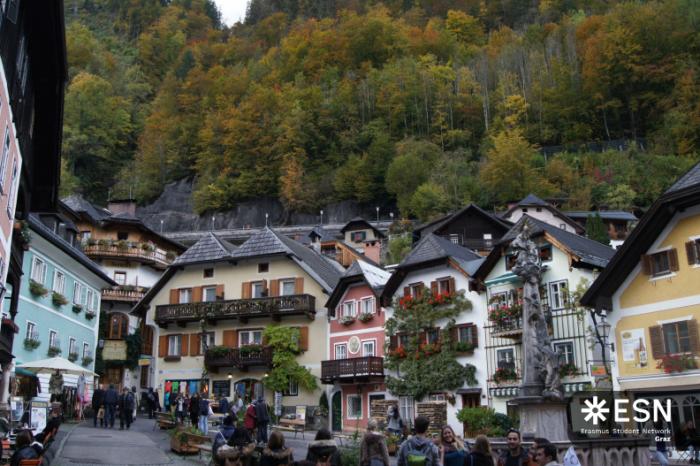 WHEN: October 24, 2020 (Sat), 07:00 – approx. 20:00
MEETING POINT: 07:00 at Andreas-Hofer-Platz
COSTS: without ESNcard 60€ / with ESNcard 50€ / for buddies with ESNcard 45€
SIGN-UP: during our office hours, from 16th - 21st of October
Important things to bring with you:
Face covering like a mask and hand sanitizer since protection is everything.

Confirmation sheet (which you got at the sign-up) since you'll need for boarding the bus

Good shoes (at least sports shoes/ sneakers, better hiking shoes or boots. No flip-flops or the like!).

Warm clothes for the Dachstein mountain and ice cave. It's -2°C (26,6 °F) in the ice cave and windy on the mountain.
Because of safety reasons you're not allowed to join the trip, if you're not properly dressed or equipped for the trip (shoes, warm clothes).

Umbrella in case of rain.

Your own breakfast, snacks, drinks and lunch if you want (we're not providing any foods or drinks). During the self-guided afternoon programme, you can visit a restaurant or cafe.

Your camera

A smile and a good mood :-)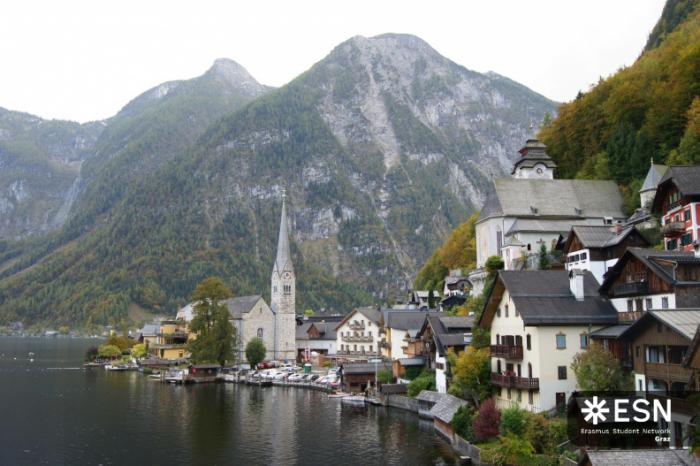 Time Schedule:
07:00 Meet-up - departure to Dachstein-Krippenstein. Be on time!
10:00 Arrival at the valley station of Dachstein-Krippenstein
10:00-12:00 Programme at the middle station (gondola ride, guided tour into the ice cave)
12:00-14:00 Exploring the area at the peak mountain station on your own
14:00-14:30 Bus ride to Hallstatt
14:30-17:00 Explore Hallstatt on your own
17:00 Departure to Graz (Meeting point Hallstatt bus terminal)
20:00 Arrival in Graz
The schedule might change depending on the weather conditions (just the activities - the trip to Dachstein and Hallstatt will take place in any weather condition!). If you have any further questions, feel free to contact us.
We'll be happy to see you!
Please note: When you take part in one of our events, you do so at your own risk and your own responsibility! We do not take any responsibility! Make sure that you have an appropriate insurance!