Cancelled/Postponed: Hiking Trip Schöckl
Date:
Sat, 2020-11-07

07:45

-

18:00


Please be a responsible person. If you feel sick in any ways please stay at home. If you suspect that you're having symptoms of COVID-19 before or after joining ESN events or services or you had contact with a COVID-19 positive tested person within close proximity in time please inform us! Then follow the further steps which are communicated by the Austrian health hotline 1450! Suspected or confirmed cases of COVID-19 and category contacts I and II at TU Graz must be reported! It's very likely this also applies to all other Graz universities, please check this on your own responsibility and out of respect for your fellow human beings!
picture source
NOTE: Our government advises to reduce all physical social interactions to a minimum. For further information, please check out this page.
UPDATE: Due to the updated COVID-19 regulations published 2020.11.02 by the Austrian government we sadly cannot do the hiking trip with you at the moment. However our organisers are willing to announce a new date once the lifted regulations allow us to do so. In the meanwhile we encourage you to do sports and training on your own (always keeping your distance) to be fit when we can do the hike together!
Schlossberg is great and all, but not really a hike, right? Austria is full of beautiful mountains waiting for you to explore them. Why not start with the closest one, conveniently located north of Graz - Schöckl! Almost as close as Schlossberg, but a real hike! Join us on Saturday, November 7th, as we embark on a one-day hiking trip to Schöckl and enjoy the nature and beautiful view over Graz.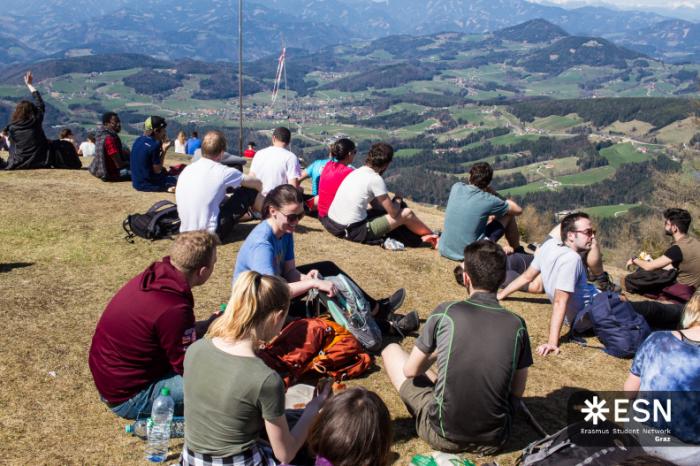 The journey starts in the city where we meet up and take the tram and bus to the hike's starting point.
It won't be the toughest hike but certainly not a walk in the park. Therefore don't forget to wear sturdy shoes (waterproof hiking/tracking shoes), warm clothes (we have nearly winter and there might be already snow, also for sitting outside during the breaks) and to take some water and other non-alcoholic drinks (tea, soft drinks,...) with you! It is also advisable to take some food/snacks with you.
Please notice that due to the current situation we have to ask you to follow more rules than usual for this hiking event:
Due to the Corona situation, we will not organize a lunch. We recommend you to bring your own lunch and enough to drink!

We will not visit any hut! -> Therefore bring your own food for lunch!

You must have at least one mask (big enough to cover both mouth and nose) but preferably you bring at least two.

Bring enough non-alcoholic drinks with you.

Strictly no booze allowed.

Anyone showing up drunk at the meeting point is immediately excluded from the hike and sent back home

If you feel sick in any way do not show up at the meeting point. Contact us via email or the contact-form that you need to cancel

Be on-time! Do not arrive much earlier to the meeting point (you can wait farer away on your own and then group up with us when it's time to meet - wear your mask)

Keep at least a 1 meter distance at the meeting point and wear your mask

Due to COVID-19, we will separate all the participants into small groups and the start will be phased. Therefore do not expect to hike together with a specific other person. However you can note in the sign-up comment if a friend of you also joins and you preferably would be in the same small group.

Read your emails the evening before the event! We will sent out the last instructions and the details for the meeting point! Also be prepared that we may have to send a last minute cancellation (also check your mail in the morning before leaving the house).

We cannot rule out that the guidelines of the Austrian authorities could change again till the planned event date. Therefore we must advise you that it is possible that we may still have to cancel the event.
We kindly ask you to not sign-up if you do not agree with any of the outlined rules. Also be careful to read the instructions given during the sign-up. If you change your mind after signing up and don't want to go any more - no problem. Just write us a short notice that you want to cancel.
Most importantly, don't forget to bring a big smile and motivation. We can't wait to meet you guys and enjoy an awesome hiking day together!
When: Sat, 7th of November, 2020

Meeting Point: around 8.00 a.m. (exact location is sent to the participants the day before the event! - Attention: we will NOT take the same way back, arrival at Andreas-Hofer-Platz

Approximate Return to Graz: 5 p.m.

Sign Up: Online within the link, sign up starts on Monday 2nd of November

Costs: only transportation, buy your own Ticket (for getting there only Zone 101 needed, for getting back: 2 additional Zones 304 & 203 needed) – Tickets are cheaper in the app!
PLEASE NOTE: When you take part in one of our events, you do so at your own risk! We do not take any responsibility! Make sure that you have an appropriate insurance!